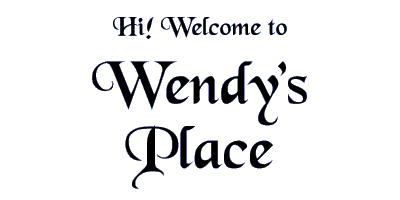 I hope you enjoy your visit here. Click on the links below to visit the rooms in my place. New arrival: Zachary Russell!

My place is always changing, so come back later to see what's new!
sign my NEW guestbook!


View Wendy's Guestbook
Sign Wendy's Guestbook

Or sign my old guestbook.
View Guestbook - Sign Guestbook
If you use AOL, and the pictures are fuzzy, click here.
Updated June 7, 2002.